It was a relatively quiet month, but with generally warm weather for this time of year. Visits were had to Parc Omega and Mud Lake, plus a few other nature and non-nature spots.
(Might have seemed quiet, but a lot seemed to have caught my eye this month....)
Traffic was light at Parc Omega with kids being in school .
The rutting season at the Parc had just about wound down, but there was one bull who was still defending his harem. The harem consisted of 36 does, including their current year's offspring, one of which was still being nursed.
One of the male elks, that had apparently lost his antlers a while ago, had grown what looked like rubber around the stumps.
I asked the Parc about it, this was their reply:
"Normally the antlers shed mid March. But because the males are given female hormones during mating season to make them less aggressive (neutralises testosterone levels) it sometimes causes antlers to shed early. When the antler falls off it bleeds and leaves a scar which is the part you see in the middle of the velvet stump. These antlers will usually fall off in March again and then the true antlers will grow again. The true antlers grow at about five inches per week as the antlers growing now are very slow! But in all antlers look like that when they start to grow."
The Parc took in three orphan moose a two(?) years ago. They have been on display, but they were shy. They seem to have lost their shyness now.
There was a fourth moose out this month. He has an odd feeding stance. He is an enclosure of his own (with a goat). 
Here's the back story from Parc Omega:
We received an orphaned baby moose last spring and bottle fed him. We recently weaned him off milk and brought him to his new enclosure. Since he is the only moose we received from the wildlife agents, we put him with a goat to keep him company since day one. We might be getting a female of the same age in the next few months that will replace Linda the goat! Our young moose is named Taco.
Moose are herbivores that usually eat things that are higher because they are so tall. Thus, a mother in nature would eat branches and twigs so her calf would imitate this behavior. Taco is with a goat who is small and browses on the ground, so he imitates Linda's behavior. Grass is not bad for him as moose eat all sorts of vegetation like aquatic plants for example. He should eventually outgrow this habit since winter is coming and the branches and pellet feed will be his main source of food.
Had some good luck with wolves in spots of sunlight....
How do red deer scratch their backs when they don't have antlers??
(Yes, he was caked in mud.)
The cinnamon bears were checking out their winter accommodations. (Didn't get a shot of one coming out darn it!)
A white-tailed deer's eye is almost like a mirror. It sure caught my eye!
We had lunch in a three sided tent and were joined by 5-6 lady bugs sheltering from the breezy cool temperatures. This is a compost of one lady bug walking along my salad container, then opening its back and unfolding its wings getting ready to fly.
Mud Lake is quieting down with winter approaching. 
​​​​​​​
The ducks "plumped up" in anticipation of the flight south (not all the mallards migrate). 
A pair of black ducks, often mistaken for mallards, were eating in the shallows. The waterline clearly showed on their back when they came ashore.
Hooded mergansers stopped at the Lake, but they stayed well away from shore and mixed in with a few ring-necked gulls who were also visiting - the gulls normally stay down on the river.
Many of the usual smaller birds were around. We also timed a visit right and had Gertrude, with her brood of six, on the trail.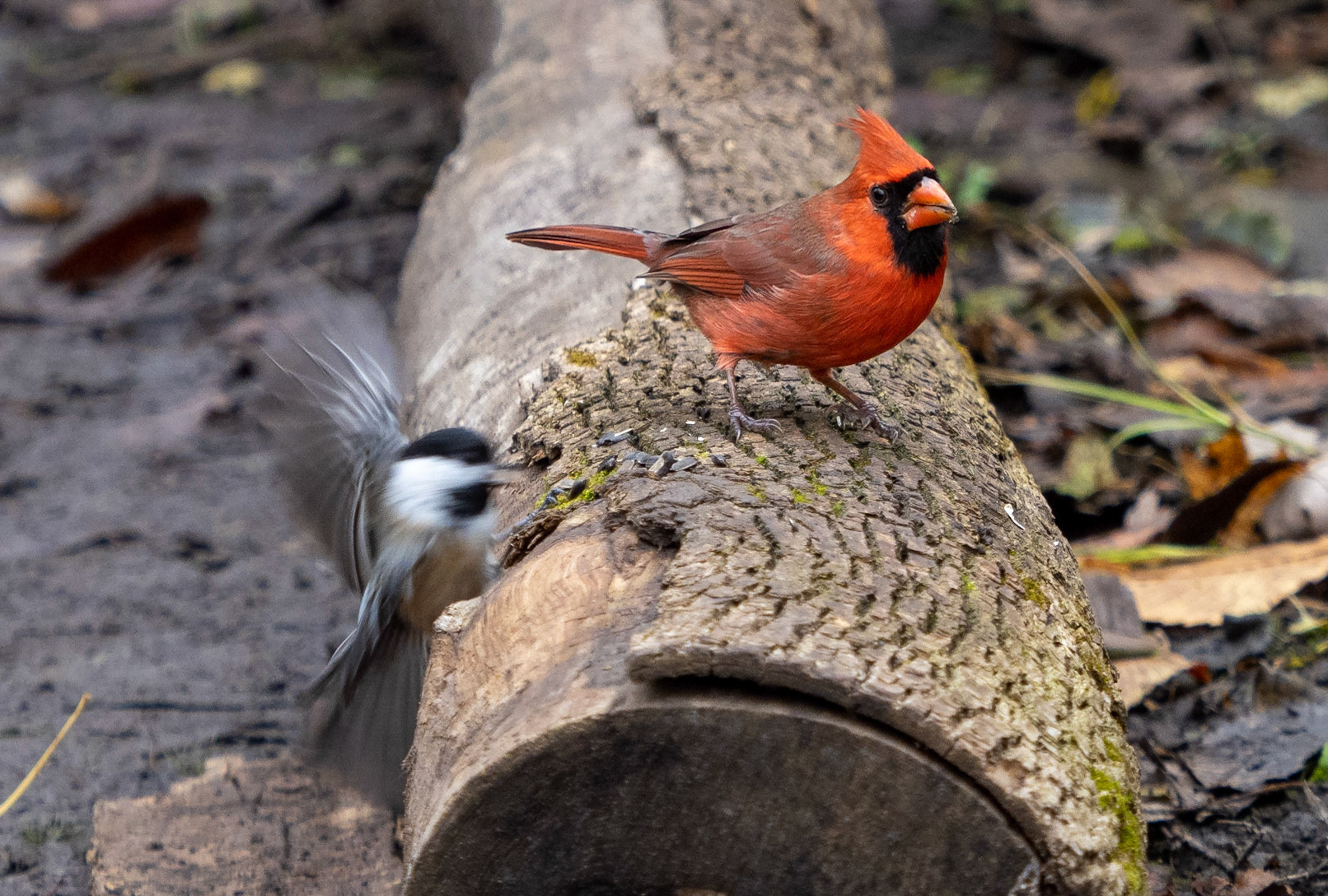 The squirrels were busy squirreling away food for the winter.
Being fall, there were some fungii around to catch my eye.
Including some witch's butter of which we normally only see the top, but someone had pulled off part of the log to expose the "roots".
Gilled polypore that looked like it was growing bottomside up.
And some "club like tuning fork" fungus as well as turkey tail.
Finally, last but not least, a bruce spanworm moth was enjoying a few sun rays.
The snow geese were passing through on their way south. We found a small flock  at the sod farm. 
The Mer Bleue Bog is nice any time of year, but the golden colours of the tamarac trees in the fall are particularly nice. With the fresh greens of the spring coming a close second.
Tamarac trees are coniferous trees, but lose all their needles every fall. 
There was a slight frost that morning, the surface of the marsh turned to a thin layer of decorative ice. In one area there were air bubbles trapped under the ice.
And frost crystals were to be found in abundance
But the "other" Mer Bleue set of trails (west side of Anderson Road) had lots of things to catch my eye.
By the end of the month, the Farmers' Market, had moved indoors and the Christmas Market had opened in the brisk outside next door to the Cow Palace.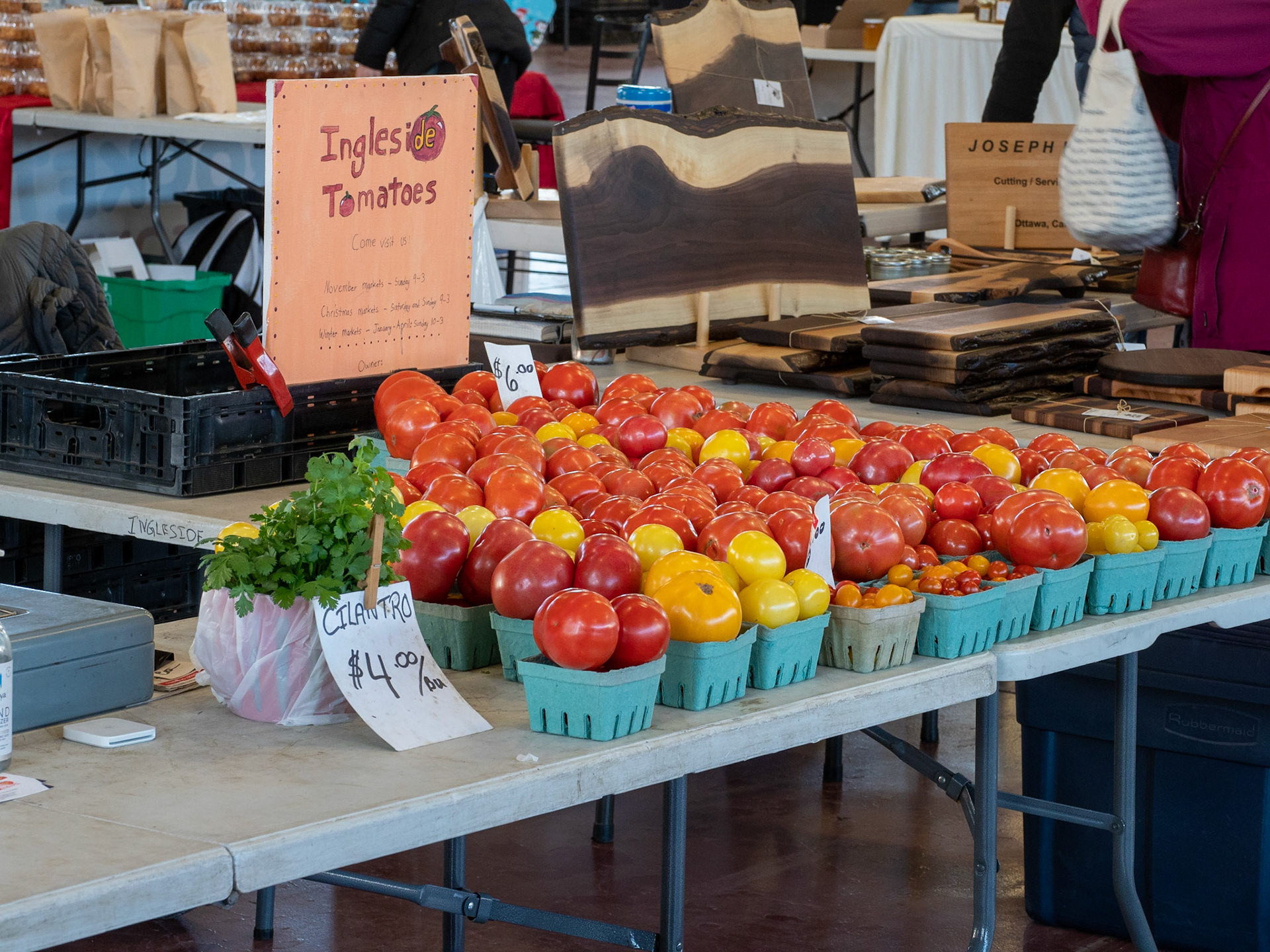 We went to "Alight at Night" at Upper Canada Village. One of the few benefits of Covid is the greatly reduced number of people allowed to attend due to restrictions. It was so nice not to have big crowds.
A few miscellaneous images.....
Someone started a collection of old cadillacs but has seemingly neglected them.
A few new, to me, murals (et al) caught my eye.
Juvenile (?) red tailed hawk watching the cars drive by on Highway 31
A short story about finding a sandhill crane migration staging area west of town
A brief, 4:30, compilation of eight of the animals at Parc Omega
Snack time, a short Mud Lake video
Animated Christmas Lights at Upper Canada Village
(You might get an ad with this one because the music is copyrighted)
There is a pigeon flock that hangs out on the power lines close to a nearby box store mall. I thought a hawk might go after them, but it seems it was a raven one day.

I was pulling into the mall and saw some action.....

A few lousy pictures, but I figured it was a story worth telling briefly.